Mastering Time Management: Maximizing Productivity in a Busy World
This workshop conducted in ASL by Patti Sanchez is available to Deaf Academy members. Not yet a member? Join here:
Abundance Attractor!
Our friends at 802 Little Hands Big Hands (deaf owned!) created this beautiful Abundance Attractor for YOU!
Dragonflies are deaf--and they are a symbol of change, transformation, and abundance!
Get Your Abundance Attractor Here!
When something isn't working for you, change it!
Join Deaf Academy and get the tools and the knowledge for joyful living. Create a life that you absolutely LOVE. Tap into your potential and use your uniqueness to stand out!
That's just $1.16 per day to TRANSFORM your life and create the life you truly want!
Yes, I want to JOIN!
Soul Circle
A four-week group transformation coaching experience with Karen Putz to discover your PASSION.
The current Soul Circle is in progress. Join the wait list for the next one.
Join the Waitlist
Deaf Academy Membership
Your monthly membership gives you the opportunity to LEARN and GROW. Each month features a Deaf expert on personal growth!
Join as a Member
Deaf Academy Courses
New at Deaf Academy--course taught by Deaf experts (in ASL!)
Do you have a unique skill, talent, or expertise that you want to teach in a course? Apply here:
Apply to be an Instructor
Welcome to Deaf Academy!
This is the online space where you can connect and learn from Deaf experts!
I'm Karen Putz--I'm known as "The Passion Mentor."
I am a Certified Passion Test Facilitator, personally trained by Janet Attwood, author of The Passion Test. Debra Poneman of Yes to Success is a personal mentor who taught me the principles of manifestation and the Law of Attraction.
I love to learn. I especially love to learn from other Deaf experts--who sign!
And that's what you'll find here at the Deaf Academy.
A place to learn and grow. A place to connect with other positive, uplifting Deaf people. A place to find what's in your soul and GO DO that!
A Place Where You Can Create a Life You LOVE
Deaf Academy is a deep dive into exactly who you are, and what you want and don't want--so that you can create the life you truly want. 
A community and a space for you to connect with people on the same journey you are--hungry for this "next level" living! 
Every month, you'll learn self-improvement from Deaf experts who share their wisdom on a variety of topics including:
Your Money Messages
How to be Brave
Overcoming Challenges
Understanding Your Dreams
The Power of Manifestation
Raise Your Vibration
Design Your Life
and more! Every month, Deaf Academy adds new things to learn! 
What is the benefit of joining Deaf Academy? 
Move from feeling "stuck" and start intentionally creating a new way to live, instead of waiting for "Someday."
Know yourself--every new beginning starts with clarity. 
Discover your Zone of Genius and focus on expanding that. 
Create a PURPOSE that drives you each day.
Reduce the negative, increase the POSITIVE
Understand your WORTH, your POTENTIAL, and your IMPACT.
Create a plan to SERVE others and touch people's lives.
Set boundaries that help you GROW in the direction you truly want.
And most of all--tap into your PASSION! 
Deaf Academy is a monthly membership. For $22 per month, you'll have access to the Deaf Academy portal where you can learn how to create a life with more JOY, FUN, and ADVENTURE! 
Yes, I want to join Deaf Academy!
When you join Deaf Academy, you can access ALL the classes below, and more!
The best investment you can make towards having an amazing life--is your investment in your own personal growth and your dreams. 
All classes at Deaf Academy are conducted in American Sign Language. You must be deaf/hard of hearing to join Deaf Academy. 
How to Free up Your Time and Love your Life More
When you feel overwhelmed and stressed, there is a solution to enjoying more: Scheduled Simplicity.
Master Your Money
Holly Parker Jensen shares the Seven Money Habits for Living the Life You Want. Holly is a licensed wealth strategist & Ramsey Solutions Master Financial Coach.
Lead with Your Heart--Not Your Job Title
Often coined as "Soft Skills," those skills are anything but soft when it involves connecting with people.
Building a Good Reputation
Having a good reputation is good for any brand. YOU are your own personal brand!
Intuition and the Law of Attraction
Life Coach Maureen Behrens teaches you how to train your mindset to create abundance and attract prosperity.
Embracing Your Future, Turning Your Challenges into Triumph
Kimberly Snipe teaches how to take your challenges and your hardest moments--and turn them into triumph. 
The Personal Impact of Social Media
Learn how to navigate conflict while learning how to work better with the community through social media.
Break the Debt Chain
Learn how to focus on eliminating your debt and creating more opportunities with your money.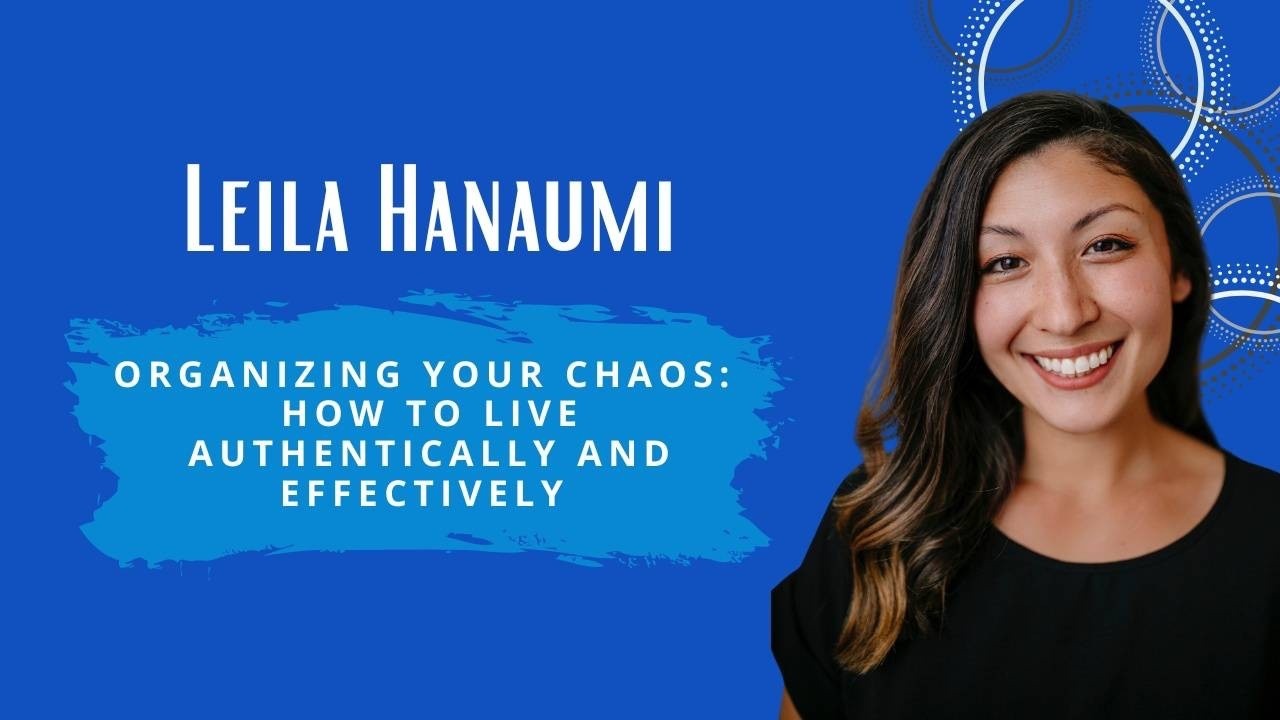 Organizing Your Chaos
How can we have happiness that's sustainable? The answer lies in the balance between the chaos and the calm.
Ami Garry: How to Free Up Blocked Energy
There are ways to free up energies that are blocked and it all depends on YOU! Learn which tools fit you to release blocked energy and promote balance within your body.
Design the Life Of Your Dreams
Learn how to visualize what you WANT in your life and take the steps to manifest your dreams.
Train Your Brain for Positive Change
Learn how to reframe your mindset and change how you think so that you can grow as a person and accomplish your goals.
Transforming Ourselves with Alchemy
Dr. Joseph Hill teaches how to apply alchemical principles to our own lives to create positive changes and reach our full potential.
Beyond Being Healthy: Simple Steps for Living Healthily
Kristen Chapman will teach how to explore the concept of living healthily and delve into successful habit installation.
How to Enjoy Life MORE!
Discover effective ways to reduce stress, boost productivity, increase success, and achieve greater happiness. 
Navigating Life with Confidence
Brianna Keogh teaches how to navigate the hard/easy choices in life--with confidence.
Avoid Hidden Traps in Decision-Making
Life Coach Diana Cho shows how to explore ways to make confident decisions.
Meditation: It's Not What You Think
Tamara "Tam" Schmidt is a certified meditation instructor. Learn how you can use meditation to tap into your soul. 
Are You Ready?
Solange "Sally" Skyer teaches you how to organize your important documents to prepare for sudden life changes. 
How to Know You're Ready to Join Deaf Academy:
You want to transform your life to live a NEW path ahead.
You enjoy connecting with Deaf people who communicate using sign language/ASL.
You enjoy learning and expanding your knowledge about success, personal growth, and achieving your dreams.
You take 100% responsibility in your own progress.
You are willing to share HIGH energy and positivity with others.
Is this you? If so, you're ready to join Deaf Academy!
Yes, I want to join Deaf Academy!
Kathryn
When I signed up for Soul Circle, I was at a point in my life where I was struggling with unresolved issues from my past personal and professional relationships, feeling lost and stuck that I could not move forward.
By working with Karen, I have learned to appreciate and enjoy life more. Take the opportunity to learn something new and grow from that experience. Loving myself, giving back to others and being grateful with what I already have within myself.
I loved how real the class was. I loved how the women could feel free to open up and share their fears, passions and dreams with others in our circle.
I loved how Karen was able to show how easy it was to take the time to dedicate time every week to work on ourselves. To be able to look at things in your life by being appreciate and grateful. I'm absolutely amazed how Karen's teachings has kept us inspired and motivated to keep us coming back to learn more each week.
I've learned through the Passion Test, how to change my thoughts and put them into actions that led to many more positive changes in my life today.
I have so much more energy, focus and confidence in myself now. I would encourage anyone who wants to transform their life by rediscovering their passions by working with Karen."
Stuart Slutzky
Karen Putz is an Ally/Mentor/Guru. She not only personifies an eye-opening but more of a heart-opening experience. Karen brings out finite tools to search, find, and develop your passion(s). Some of those tools allow you to learn more about yourself and help you figure out a direction to take (the most difficult part of taking the first step). The beauty of Soul Circle is that you participate in a group setting and you can reflect on several approaches. I highly recommend working with Karen into opening your heart, your mind and most of all, Unwrapping your passions.
Sandra K. Wood, Ph.D.
Maybe you've found yourself at a point where you feel like nothing is happening for you, you're washed up, there's no joy.... Remember those days when you were a kid and you enjoyed life to the fullest even in the smallest things? That's the 'joy' so many people feel like is missing from their life. I wanted to figure out what my 'joy' was, i.e. what my passion was and how to realize my passion in a meaningful way.
Us Deaf folks have so many layers in our lives, which can box us in and keep us from really enjoying our lives the way we are meant to. She knows this.
Karen Putz, with her
Unwrapping Your Passion
coaching, guided me to a place of self-discovery, helping me create multiple options of what I could do with my newfound, or should I say 'rediscovered', passion(s). She is compassionate, insightful, and gently challenging (when needed) as your passion coach. I can't recommend her highly enough. If you're ready to rediscover yourself and figure out a happier, healthier, and a more 'you' way of life, sign up for her individual or group passion coaching.
Angie Kubiak
After taking Soul Circle, what impacted me the most is that I learned that I need to take a look at myself more and see what I want to do in the future. How did I transform from what I learned? I am more aggressive in trying to find a job, practicing my interviewing skills, pursuing guardianship for my son at the same time. I also learned that I need more "me time!"
Connie Wallace
Karen Putz is a wonderful mentor and coach! I am so glad that I took coaching sessions and Soul Circle with her. I admit that, at first, I was skeptical about the sessions taught by Karen. I am like...Passion, what is so special about it? Throughout the four Soul Circle sessions, I learned so much and really deep dived into finding my passion seriously. Taking this course really opened my inner soul and in finding out who I am and what my passions are. I love her book, "Unwrapping your Passion". It is a great book which is easy to read. A great resource to review and remind yourself in case you get off track from following your passion. Learning and finding out about your passion is the key to your successful future. I am glad that I took the leap of faith in joining and learning about my passion. I even mentioned and encouraged my friends to give it a try. You will not regret it if you work with Karen!